Integration and commissioning of video conferencing systems
Video conferencing system integrator for companies and communities
Videoconferencing has become a major issue for remote communication in companies and communities.
Whether for internal meetings, general assemblies, training sessions or exchanges with partners, videoconferencing saves time, reduces costs and promotes collaboration.
To take full advantage of these benefits, it is essential to have a video conferencing system adapted to your needs and your environment.
Concept Light advises and supports you in equipping your videoconference room with professional equipment.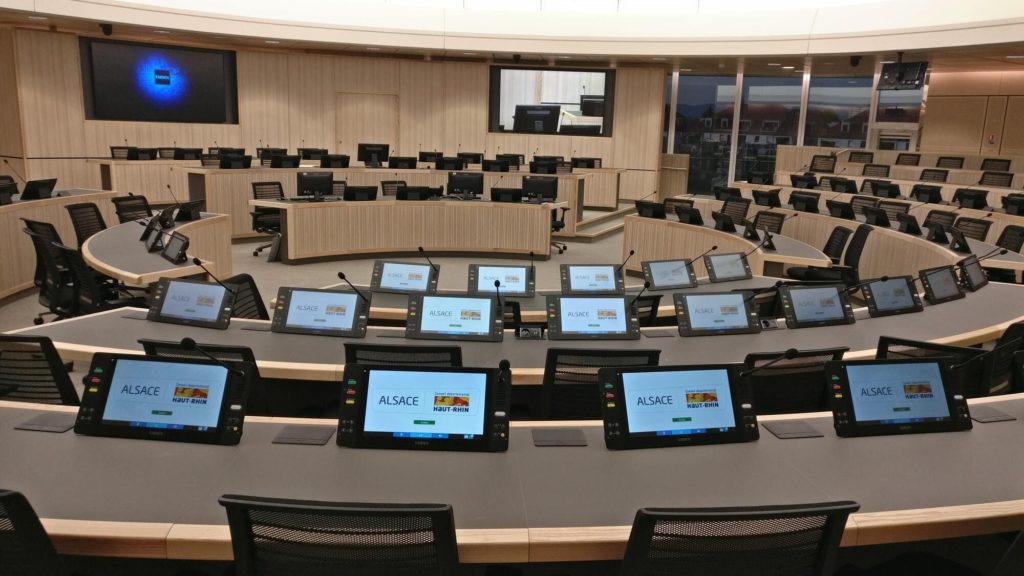 Our team of technicians will carry out a study to determine which videoconferencing system is the most appropriate for the size and configuration of your room. Whether it is for a large room, a congress, an amphitheatre or for a small meeting room, a training room or a classroom, we study your needs and uses to bring you the best solution.
We offer wireless videoconferencing solutions, to quickly launch a videoconference when entering the room. By avoiding the constraints of connections, you also avoid wasting time and delays in your meeting.

Concept Light offers complete systems for videoconferencing:
screens for videoconferencing,
video conferencing cameras,
clickShare wireless connection system.
etc…
Thanks to Concept Light's technical team, you benefit from a personalised service and a quality guarantee for your videoconferencing equipment. We can upgrade your videoconferencing system according to your needs.
Small meeting rooms
Medium-sized rooms
Large conference rooms
3 times more
Today, video conferencing is an ideal platform for employee collaboration, engagement and productivity. Today, it is used by three times as many people as at the beginning of 2019.
85%
of companies or public authorities want simple, intuitive and secure video conferencing solutions and equipment. This figure is constantly changing
65%
of employees use videoconferencing compared to 15% before the health crisis.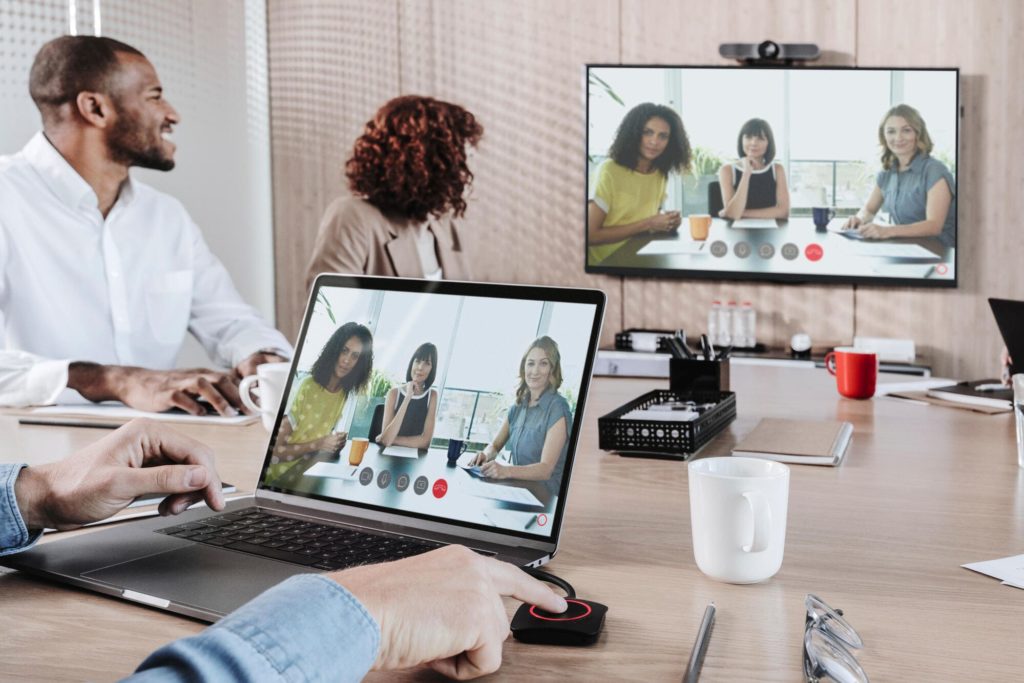 ClickShare: The wireless solution that simplifies video conferencing
Video conferencing has become indispensable for remote meetings, but it can also be a source of complications if you don't have the right equipment.
Cumbersome cables, limited compatibility, poor quality: all these problems can hamper the fluidity and efficiency of your exchanges and waste your time.
To avoid these inconveniences, Concept Light offers the ClickShare wireless system, which simplifies the connection to your videoconferences.
ClickShare is an innovative solution that allows you to share your screen or start a videoconference in one click and without wires.
Connected to your laptop and the equipment in the room (screen, camera, speakers) ClickShare can be used without any connection or installation at the time of the video conference. A simple press on the box and you are connected!
With ClickShare, you save time, space and peace of mind for your video conferences.
Quality equipment for clear and fluid communication
To succeed in your video conferences, a good connection and good software are not enough.

You must have quality equipment that allows you to communicate clearly and fluidly with your interlocutors.
At Concept Light, we offer complete solutions that include all the necessary equipment to organise your conference.
One or more screens adapted to the size of your room and the desired image resolution. We advise you on the choice of model, stand and cabling before installation. For large conference rooms, we can also provide a screen at each station, with microphones, to allow everyone to follow the conference in an optimal way.
We also offer high-performance cameras that capture all participants and details.
Concept Light has systems for all room sizes. For example, for smaller rooms, we offer the Logitech Meetup camera, a USB camera that offers exceptional video quality with its 4K ultra HD resolution, 120° viewing angle and 5x digital zoom. It also has a built-in microphone that filters out noise.
For capturing and broadcasting in larger rooms, we offer swivel cameras that can be aimed at the various speakers, even when they are moving.
Do you want to set up an efficient videoconferencing system?
Concept Light's technicians can assist and advise you, contact us!